Welcome
Welcome to Dress Like Taylor Momsen, you're one and only blog to Taylor's style. This blog is the fashion section of The Pretty Reckless Portugal but it's in both Portuguese and English.
Here you'll find all the tools you'll need to get Taylor's clothes or similar pieces for affordable prices! You can request the looks you want, simply leave a comment with the outfit you want. If you know of a garment and you want to share it on the blog you're welcome to do that too. And if there's a broken link please report it by commenting so we can fix it.
I hope you guys enjoy the blog and come back soon!
Quarta-feira, 27.07.11
There's two links for the sandals. It's up to you guys to choose the one you like best. And I'm sorry I couldn't find the white bracelet. There's a couple of accessories in clothing stores these days. Try looking at a Claire's or Accessorize store (they didn't have anything remotely similar online).
Existem dois links para as sandálias, encontrei dois pares semelhantes, por isso, cabe a vocês escolher o par que gostam mais. E peço desculpa, não consegui encontrar a pulseira branca. Há poucos acessórios nas lojas de roupa. Tentem procurar numa loja Claire's ou Accessorize (elas não tinham nada remotamente parecido com a pulseira online).
t-shirt: Pimkie
shorts/calções: Pimkie
sandals/sandálias: La Redoute, La Redoute
necklace/colar: Westrags
bag/mala: Westrags
Terça-feira, 26.07.11
Today Taylor turns 18! To congratulate her you guys can do it through twitter, myspace,  the TPR site, or through her official site. We hope she has a great joyful day and continues to amaze us like she does! Happy Birthday Taylor!
Hoje a Taylor faz 18 anos! Para lhe dar os parabéns podem faze-lo pelo twitter, myspace,  TPR site, ou pelo site dela. Desejamos lhe um dia feliz e esperamos que ela continue a deslumbrar-nos com todos os seus talentos! Parabéns Taylor!
Terça-feira, 19.07.11
This was the look Taylor wore for the Samantha Thavasa press conference in Tokyo on June, the 18th. She is the new promotional model for the accessories brand. I found a pair of boots similar to Taylor's but I'm guessing you girls want something more light for Summer and included two different options of eco-friendly footwear. I don't know if you noticed but everything I post here is animal and environmentally conscious. You can get the same thing much cheaper while still thinking about the planet.

Este foi o look que a Taylor usou para a conferência de imprensa da marca Samantha Thavasa em Tóquio, no dia 18 de Junho. Ela é a nova modelo promocional para a marca de acessórios. Eu encontrei um par de botas parecidas com as da Taylor mas, como é Verão, é preferível usar sapatos mais leves, por isso, incluí duas opções diferentes de sapatos amigos do ambiente. Não sei se já repararam, mas tudo o que publico aqui é amigo dos animais e ambientalmente consciente. Podem ter a mesma peça por um preço mais baixo e ter em conta o bem-estar do planeta.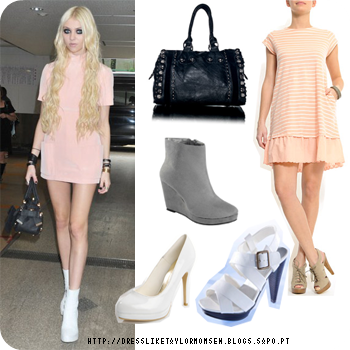 dress/vestido: Mango
boots/botas: La Redoute
sandals/sandálias: La Redoute
shoes/sapatos: La Redoute
bag/mala: Westrags