Welcome
Welcome to Dress Like Taylor Momsen, you're one and only blog to Taylor's style. This blog is the fashion section of The Pretty Reckless Portugal but it's in both Portuguese and English.
Here you'll find all the tools you'll need to get Taylor's clothes or similar pieces for affordable prices! You can request the looks you want, simply leave a comment with the outfit you want. If you know of a garment and you want to share it on the blog you're welcome to do that too. And if there's a broken link please report it by commenting so we can fix it.
I hope you guys enjoy the blog and come back soon!
Terça-feira, 29 de Junho de 2010
This was the look Taylor rocked when she performed on July, 28th of 2009 at her 16 brithday party promoted by Myspace in New York.
Este look foi o que a Taylor usou quando subiu ao palco, no dia 28 de julho de 2009, na sua festa de 16 anos promovida pelo Myspace em New York. O casaco da La Redoute não é o muito parecido com o da Taylor mas também nesta estação as lojas não têm muita oferta de casacos deste género.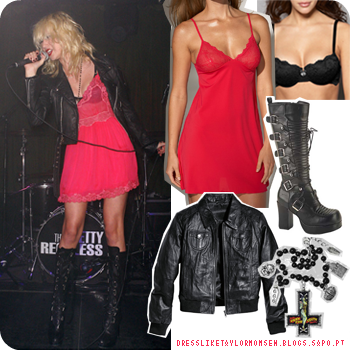 bra/sutien: La Redoute
gown/camisa de dormir: La Redoute
boots/botas: Androm
jacket/casaco: La Redoute
necklace/colar: Androm