Welcome
Welcome to Dress Like Taylor Momsen, you're one and only blog to Taylor's style. This blog is the fashion section of The Pretty Reckless Portugal but it's in both Portuguese and English.
Here you'll find all the tools you'll need to get Taylor's clothes or similar pieces for affordable prices! You can request the looks you want, simply leave a comment with the outfit you want. If you know of a garment and you want to share it on the blog you're welcome to do that too. And if there's a broken link please report it by commenting so we can fix it.
I hope you guys enjoy the blog and come back soon!
Sexta-feira, 16 de Julho de 2010
This is the guide to Taylor's outfit at The CW Network 2009 Upfront on May, the 21th. Taylor's jeans are leather but you can get the same effect using cotton or fake leather jeans.
Aqui está o guia para a roupa que a Taylor usou no The CW Network 2009 Upfront no dia 21 de Maio. As calças da Taylor são de cabedal mas podem conseguir o mesmo efeito usando umas calças pretas simples de algodão ou de qualquer materia sintéctico.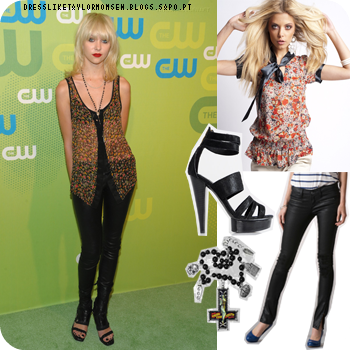 blouse/blusa: Westrags
pants/calças: La Redoute (this link is for a different pair of pants than showed in the picture)
shoes/sapatos: Mango
necklace/colar: Androm