Welcome
Welcome to Dress Like Taylor Momsen, you're one and only blog to Taylor's style. This blog is the fashion section of The Pretty Reckless Portugal but it's in both Portuguese and English.
Here you'll find all the tools you'll need to get Taylor's clothes or similar pieces for affordable prices! You can request the looks you want, simply leave a comment with the outfit you want. If you know of a garment and you want to share it on the blog you're welcome to do that too. And if there's a broken link please report it by commenting so we can fix it.
I hope you guys enjoy the blog and come back soon!
Domingo, 20 de Fevereiro de 2011
This is one of Taylor's most famous looks. And now that Spring and summer are coming it's easier to find these pieces. I didn't find fixnet stockings but you can look at Calzedonia or another store, they're not hard to find.
Acho que este é um dos looks mais icónicos da Taylor e agora com a Primavera e o Verão à porta é mais fácil encontrar estas peças. Não encontrei meias de rede à venda online por isso se quiserem comprar um par delas passem pela Calzedonia ou uma loja do género. E se o dinheiro for um problema para vocês, o Calçado Guimarães tem mais botas semelhantes às da Taylor a preços mais baixos, é só procurarem na loja :)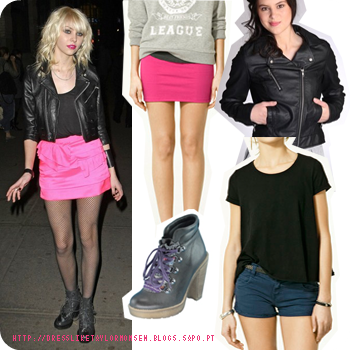 t-shirt/t-shirt: Zara
jacket/casaco: La Redoute
skirt/saia: Zara
boots/botas: Calçado Guimarães