Welcome
Welcome to Dress Like Taylor Momsen, you're one and only blog to Taylor's style. This blog is the fashion section of The Pretty Reckless Portugal but it's in both Portuguese and English.
Here you'll find all the tools you'll need to get Taylor's clothes or similar pieces for affordable prices! You can request the looks you want, simply leave a comment with the outfit you want. If you know of a garment and you want to share it on the blog you're welcome to do that too. And if there's a broken link please report it by commenting so we can fix it.
I hope you guys enjoy the blog and come back soon!
Quarta-feira, 13 de Julho de 2011
The shoes are not peep toe but you should look for a similar pair at Zara's sales 'cause I saw a pair on their website a couple of months ago. The earrings have different colors but try searching at Stradivarius (I saw a similar pair there) and other jewelery stores.

Os sapatos não são peep toe como os da Taylor mas foram os mais semelhantes que encontrei. Procurem no saldos da Zara porque há uns meses atrás a loja tinha uns peep toe muito semelhantes. Os brincos também são de uma cor diferente, procurem na Stradivarius (vi lá uns parecidos) e pelas lojas de bijuteria, que têm sempre alguns brincos parecidos.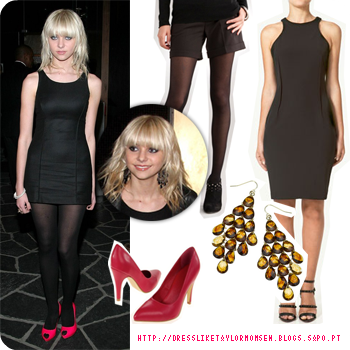 dress/vestido: Zara
tights/collants: La Redoute
shoes/sapatos: La Redoute (the exact shoes are Alexander McQueen's Heart Peep Toe Pumps and they're out of stock)
earrings/brincos: Accessorize